AWARD WINNING LOCAL FUSION CUISINE & BEVERAGE SERVICE

JOIN US FOR  OUR UPCOMING TASTING EVENT ON JANUARY 25TH FROM 3PM TO 7PM.  
Our Next Gala Buffet Private Tasting is scheduled for January 25th from 3pm to 7pm. Feel free to make a reservation using our calendar tool. Prospective clients of Venetian Terrace will be required to pay $15 upon entry. Active Clients may attend one Tasting Event complimentary, free of charge. A cash bar will be available and tendered via our waitstaff. Water, Punch, Tea and Coffee will be provided with the table service.
Select a time below to get started…
Use my online scheduling page by vCita to schedule an appointment with me:
ENJOY ALL THE AMENITIES OF VENETIAN TERRACE
PERKS FROM BOOKING WITH US

Our Venue Coordination package includes a complimentary session of floor planning. That way when your decorator team arrives; everything is right where it should be.
 Making sure all your vendors and VIP guests are aware of your timeline helps keep everyone in sync and the event flowing smoothly.
We enjoy taking out all the legwork so you can enjoy everything else. Booking at a Venue that is professionally staffed and service oriented goes a long way.
Our Venue Coordinators provide professional, timely and top notch customer service. Now you can skip the stress and enjoy the engagement that much more.
Upgrade to Full Service Wedding Coordination for just $500. Get instant expert Wedding Advice on every decision leading up to your special day.
Fine Dining complimenting the most flexible bar packages in the Metroplex! Start with a Cash Bar from the start or put a deposit to cover the event tab for a  certain duration.
IT'S TRUE… THE VENUE IS BREATHTAKING, BUT THE CUISINE IS SOME OF THE FINEST IN DFW!
With over 20 years in the making, truly what we are known for is the European Style Hospitality and service complimenting some of the finest cuisine and local fusion dishes in Dallas. One of the most enjoyable aspects about planning with us is coming out for your private tasting with our acclaimed and renowned Chef.
Venetian Terrace… Your dream destination Wedding or Private Event is closer than you think.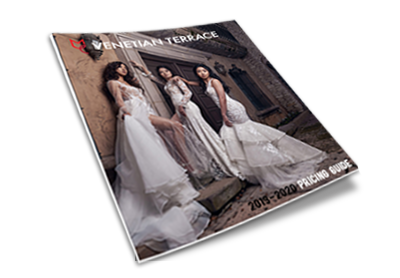 BOOK YOUR EVENT WITH US AND SCHEDULE A COMPLIMENTARY PRIVATE TASTING
JUST A FEW OF OUR TASTY MENU SELECTIONS…